06
Race to Win
PROFESSIONAL SKI RACER
Ski racers in this stage are seeking technical refinement to utilize their skiing technique a variety of creative technical solutions in challenging tactical competitive environments with the intent on winning.
Boys Alpine Canada National Teams
Girls Alpine Canada National Teams
CAST/Canada SX/CPAST
Photo: Frédérique Turgeon Para-Alpine Silver in Giant Slalom at La Molina, ESP.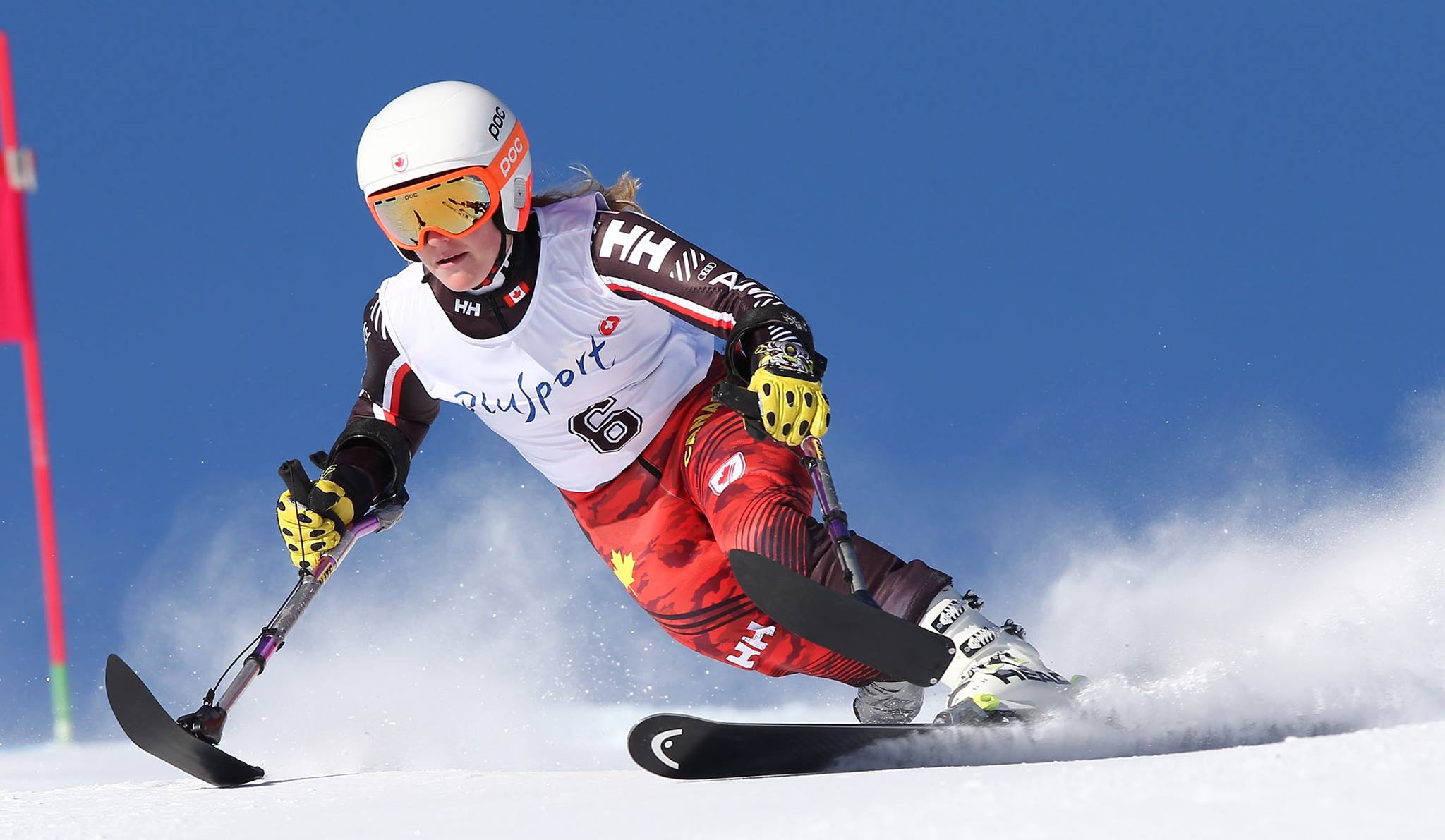 ---
TECHNICAL FOCUS
Ski racers demonstrate outside ski pressure throughout the turn and have the skill and ability to manipulate the ski orientation on the snow through the maintenance of a good athletic ready position on skis while carving in a variety of environments. Ski racers in this stage are seeking technical refinement to utilize their skiing technique a variety of creative technical solutions in challenging tactical competitive environments with the intent on winning.
Ankles flexed (tension) resulting in shin pressure on the front of the boot with knees driving towards the ski tips. Shin pressure allows the hips (COM) to be over the feet resulting in the best position for success.
Parallel skis with hip to shoulder width stance.
Everything is inline including the ski tips, bindings, knees, shoulders.
Hips are perpendicular to the skis.
Body movement between turns and over terrain is forward, moving with the skis through transitions.
Ski racers are proficient at weight transfer between symmetrical turns to enable the ski racer to carve on the outside ski.
Ski racers experiment with different edge angles on the steep and flat terrain.
The upper body should remain stable and quiet.
Proper upper and lower body separation is used to direct forces to the outside ski resulting in a stable platform.
Pole plant timing and coordination will become more consolidated and disciplined.
SKI RACERS MUST MAINTAIN THE CORRECT BODY POSITION ON THE SKIS AT ALL TIMES!
Ski racers practice carving turns outside ski to outside ski to refine the fundamental skiing skill of carving a turn with the proper upper and lower body separation and forward body position on the ski through the use of ankle flexion to promote the establishment of a platform utilized to apply force to the ski.
Ski racers learn to control and generate speed through the use of different turn shapes, short and long radius turns, on all types of terrain.
Ski racers continue to perform technical free ski skills with control and rhythm in a variety of different environments.
Changing one variable from one run to another adds contrast and allows drill repetition without repeating.
Ski racers refine their speed skills including tucking, gliding and jumping skills over natural terrain, platform jumps, terrain park and ski cross features.
Ski racers should train full ski cross courses and the speed disciplines of Super G and Downhill.
The focus is always on maintaining a good technical skiing foundation, this is a required component of the ski racers training program. Frequent technical free ski sessions are encouraged.
TACTICAL FOCUS
Continue to create challenging environments where ski racers can refine and maintain their foundational technical skiing skills in a variety of course configurations, snow surfaces and terrain in preparation for competition on the world cup. Make the whole run count every time!
Daily training environments are set to match the individual needs of the ski racer to promote technical refinement and can include a variety of the following:
The importance of "line" through experimentation with risk vs. reward in training and competition environments.
The tactical application of foundational technical skiing skills in open rhythmical/arrthythmical giant slalom and slalom courses with rolling terrain.
Course sets that cause ski racers to move over terrain, including blind gates, is encouraged. Learning how to keep the skis on the snow in a variety of terrain changes is a ski racing skill.
Speed generation while turning over rolls and terrain features in all disciplines; ski fall-away turns.
Train with a variety of start ramp angles with a variety of ski lengths.
Training with start gates for the team event, parallel events and SX event types.
Development of inspection skills during training through the use of race simulations or time-trials utilizing terrain and pistes that match upcoming events.
Training environments should promote self-discovery by the ski racer where the ski racer can analyze an error and try a different tactic without a significant amount of feedback.
Failure is part of the learning process if the ski racers are pushing their limits in training and competition, they will fail but can learn from their mistakes with the proper mindset.
Course sets include the following events and are dependent on the individual ski racers performance plan:
Giant Slalom
Slalom
Super Giant Slalom
Downhill
Alpine Combined
Parallel Slalom and Giant Slalom
Dual Formats/Team Event
Ski Cross courses
Speed elements training; ski on longer skis throughout the year to practice:
Glide turns
Jump progressions
Movement over terrain with speed