06
Race to Win
PROFESSIONAL SKI RACER
Ski racers have made a serious commitment to the pursuit of their goals at the highest levels of ski racing. Ski racers should come into this stage with a strong physical fitness and physical literacy foundation. The role of strength and conditioning at this stage is to use a specific exercise prescription to maximize the engine and elevate a ski racers performance to win medals.
The integrated support team (IST) in partnership with ACA staff coaches construct, monitor, evaluate and adjust an individual ski racers training plan to ensure their tailored plan is physically preparing them to peak for major competitions. A well designed, monitored strength and conditioning program, in conjunction with sports medicine support, can increase the ski racers' tolerance to training and may decrease the chance of injury.
Programming follows an individualized periodized training plan tailored for the ski racer and focuses on maintaining a balance between on-snow and off-snow training requirements to ensure adequate regeneration between bouts. Ski racers are required to participate in daily monitoring during this stage.
Boys Alpine Canada National Teams
Girls Alpine Canada National Teams
CAST/Canada SX/CPAST
Photo: Brady Leman at CSI Calgary summer prep period weight training.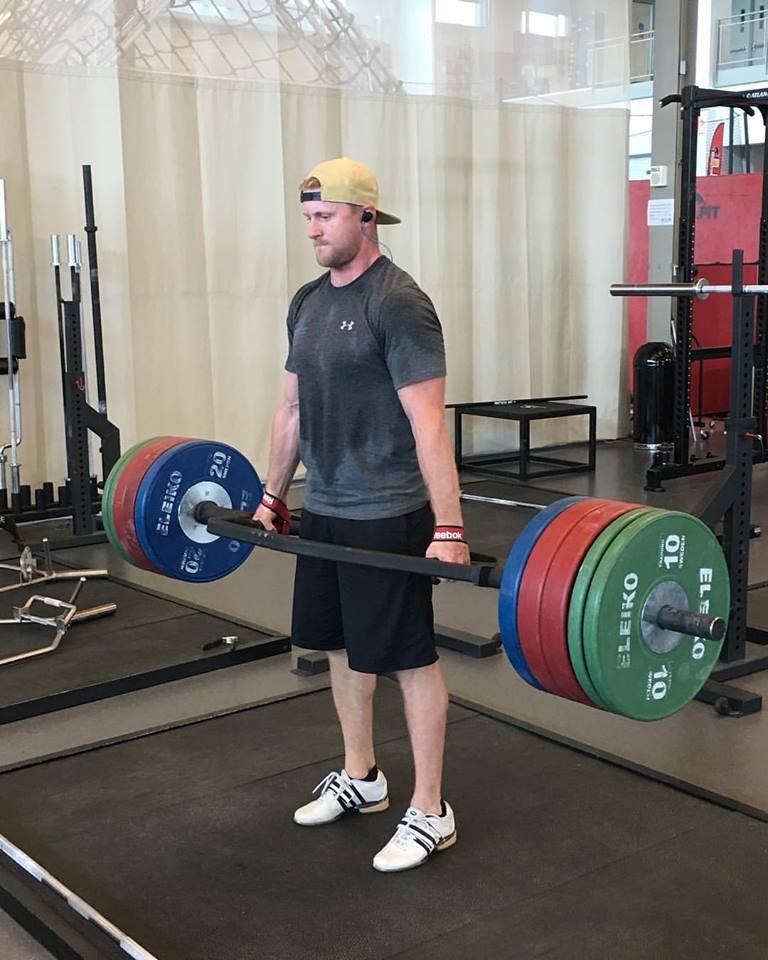 ---
Strength & Conditioning
The sport of ski racing challenge's virtually all of a ski racers' physical fitness capacities including strength, power, aerobic and anaerobic capacity, balance, coordination, motor control and mobility. Ski racers train strength and core stability, power, aerobic and anaerobic endurance, coordination/motor skills, balance and mobility, while cross training in other sports to meet the physical demands of ski racing (Gilglen et al. 2018).
Physical Fitness Evaluation
Between two to three times per year, ski racers complete a physical fitness analysis to enable IST and ACA staff coaches to effectively managing the ski racers physical fitness conditioning plan. Generally, these evaluations are completed in the spring, mid-summer and fall.
Strength Training
Depending on the ski racer's individual needs, strength training typically targets the entire body while emphasizing the legs, core, hip/gluteal regions. Focus can include building strength endurance, maximal strength and power. Strength training includes eccentric training to sustain high loads and shocks encountered with turning (Gilglen et al. 2018).
Endurance Training
Aerobic and anaerobic capacities are increased through participation in a variety of activities including road cycling, trail running, swimming, kayaking, mountain biking, tennis, track cycling, team sport participation in sports such as football (soccer) and hockey.
Agility, Balance, Coordination & Motor Skill Training
Often integrated with strength, power or endurance training. Cross training activities like tennis promote the development of coordination and motor skills.
Return to Snow and Competition Considerations
Many Olympic and World cup ski racers suffer an acute or chronic injury during the season which requires continuous monitoring by a health care professional in partnership with their strength and conditioning coach. Conditioning programs for these ski racers are designed to prepare the ski racer for return to competition while increasing the ski racers physical fitness capacities to prevent further injury.
Movement Preparation

Every ski racer should complete an activation (warm-up) and proper movement preparation series before starting any training activity, and it should become part of the normal routine. An appropriate session of activation can last between 5 - 15 minutes dependent on the upcoming training session. An activation session can be a lower intensity version of the workout you are about to do, or it can contain individual-specific movement preparation exercises for the ski racer. It should always involve the muscles you are about to use. Movement preparation can also be completed as part of a regeneration session.
A PROPER ACTIVATION SESSION BEFORE BEGINNING TRAINING OR COMPETITION WILL:
Increase the heart and respiration rate causing an increase in available oxygen for the working muscles (gradual increase).
Increase muscle and body temperature, required for training and competing in cold weather.
Increase range of motion and mobility.
Dial in the mind-body connection optimizing the ability to perform; engages the nervous system.
INCLUDING FUNDAMENTAL MOVEMENT SKILLS IN THE ACTIVATION SESSION WILL:
Promote the maintenance of physical literacy.
Enables ski racers to strengthen their body using simple movement patterns.
Allows ski racers to adequately prepare the body for movement and improve or correct their movement patterns which can reduce the risk of injury while skiing and participating in unfamiliar activities.
Promote a feeling of success by acquiring skills resulting in an increased motivation to overcome challenges because they have prepared the body and mind for training or competition.
Review the Physical Literacy Movement Prep Interactive PDF from physicalliteracy.ca to review proper movement prep exercise execution.
Physical Training for Para-Alpine
Much like the development of a long term plan for skiing, the same must be looked at for the physical aspect of a participant or athlete. For the Para-Athlete we must make certain considerations based on the physical impairment of the individual. It is necessary to realize that due to the nature of differences between each athlete's needs, every aspect of the program will be considered on an individual basis. Training does not differ from an able-bodied regimen, however extra considerations should be taken into account for each category.
VISUALLY IMPAIRED
Goals: develop proprioceptive awareness and balance to increase confidence in spatial moving, if possible, increase chemistry and communication with a guide.
Considerations:
Not usually any physical restrictions, no modifications on testing procedures.
Need to educate and progress through bodyweight movements to movements with external objects and object manipulation.
Landing and jumping progressions can help to build spatial awareness, which can increase balance and coordination.
Outdoor conditioning workouts will most often require a guide with experience.
SITTING
Goals: Develop and improve sitting positioning, balance, core strength, scapular, rotator cuff and potentially hip stabilizers.
Considerations:
SAFETY: GAIN AWARENESS OF THEIR ASIA (AMERICAN SPINAL INJURY ASSOCIATION) STATUS AND LESION LEVEL. GAIN A CLEAR UNDERSTANDING OF THEIR CURRENT FUNCTION (BOTH SENSATION AND MOTOR) PRIOR TO STARTING A PROGRAM.
Orthostatic hypertension: gradually change positions.
Autonomic dysreflexia (T6 and above): ensure they have used the washroom prior to their workouts and there are no bladder infections, restrictive clothes or other potentially noxious stimuli present.
Respiratory function: do they need an assisted cough.
Caution with overtraining as this will affect their ability to carry out activities of daily living.
May need more help than normal with the movement of themselves and equipment around the weight room or training area
Be aware of areas without feeling and rubbing, pressure points during certain movements.
STANDING
Goals: Address muscular imbalances that may occur. Engage and encourage proper movement patterns, but understand that they may not be perfect.
SAFETY: IF WORKING WITH AN AMPUTEE, ENSURE THAT SKIN CARE IS MANAGED, PARTICULARLY IF TRAINING IN A HOT ENVIRONMENT.
Understand the differences in the range of motion, strength and optimal positioning with each athlete.
All of the facets of training (strength, power, agility, etc.) can be trained, however, they all may look different between athletes and possibly within an athlete (i.e. left and right sides).
Some athletes (eg. Cerebral Palsy or stroke) may need different movements for each side of their body, don't neglect the less functioning side.
IT IS IMPERATIVE THAT THE COACHING STAFF AND INTEGRATED SUPPORT STAFF (IST) COMMUNICATE AND ARE AWARE OF EACH ATHLETE'S FUNCTIONAL STATUS, TECHNICAL LEVELS AND ABILITIES. THIS WILL ALLOW FOR BETTER FLOW AND ALIGNMENT OF PHYSICAL, TACTICAL, MENTAL AND TECHNICAL DEVELOPMENT TO CREATE THE BEST POSSIBLE ENVIRONMENT FOR MAXIMAL OVERALL GROWTH.
---