06
Race to Win
PROFESSIONAL SKI RACER
Ski racers in the Race Win stage are world-class competitors who are competing at the highest level of competition in the Olympics, Paralympics, World Championships and the World Cup. Ski racers at this level have highly personalized training and competition plans supported by an Integrated Support Team (IST) of physical therapists, strength and conditioning specialist, performance psychologists, nutritionist and medical specialist who provide ongoing support. Ski racers enter this stage after they have achieved success in the NorAm, Europa Cup and NCAA racing circuits. In most cases, ski racers in this stage have earned a starting position on the FIS World Cup circuit by winning the NorAm cup in their strongest discipline. The primary objective at this stage is to win medals at the elite levels of competition.
Boys Alpine Canada National Teams
Girls Alpine Canada National Teams
CAST/Canada SX/CPAST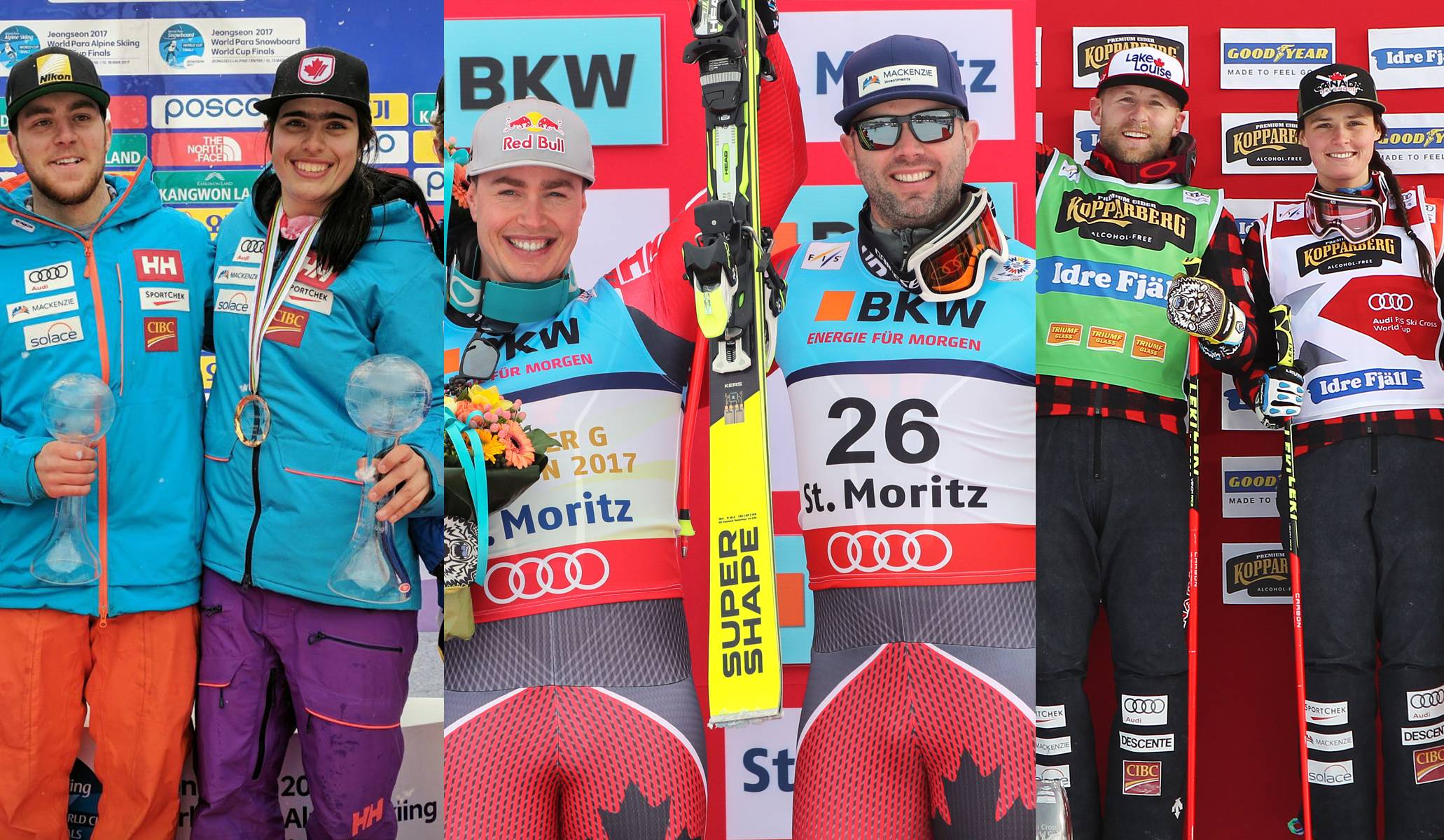 Key Concepts
Ski racers enter this stage after having achieved podium success on the FIS NorAm and European Cup racing circuits. As an early exposure, late development sport ski racers typically enter the gold medal pathway between 22 and 24 years of age. The average ski racer takes between four to eight years to achieve the high physical and tactical capacities required to be competitive at the World Cup, Olympic, Paralympic and World Championship events (Gilgien et al. 2018, Steidl-Müller et al. 2019). The primary objective at this stage is to win medals at the elite levels of competition.
Focus at this stage is on podium performance at the highest-level international events.
Improvement or maintenance of all physical capacities required for optimum performance through evidence-based training prescription; aligned with a winning style of play.
All physical, technical, tactical, mental, personal and lifestyle skills are established, and the focus is on maximizing performance with further development of technical, tactical and performance skills, with modelling of all aspects of training and competition performance.
Ski racers seek to maximize ancillary capacities, with support from knowledgeable specialists.
Equipment is tested and built to fit the individual ski racer; equipment meets FIS requirements on the World Cup circuit.
Periodic testing is completed as part of a gap analysis to identify the strengths and weakness of the individual ski racer to create a formalized annual training plan that contains multiple periodized peaks and tapers.
Recovery, regeneration and mental fitness are maximized by scheduling preventative breaks to avoid injury and burnout. Frequent prophylactic breaks for recovery and regeneration. Ski racers at this stage work to optimize their ancillary capacities to balance sport, work/school, and family/friend life obligations.
Ski racers seek to maintain ethical sport participation including respect for opponents, fair play, and commitment to drug-free sport participation.
REFERENCES:
ACA LTAD Training and Competition Focus Matrix
ACA LTAD Training and Competition Volume Matrix
ACA LTAD SX Progression Matrix
ACA LTAD Para-Alpine Progression Matrix
Actively Engaging Women and Girls
Gilgien, Matthias & Reid, Robert & Raschner, Christian & Supej, Matej & Holmberg, Hans-Christer. (2018). The Training of Olympic Alpine Ski Racers. Frontiers in Physiology. 9. 10.3389/fphys.2018.01772.
Sport for Life - Long Term Development in Sport & Physical Activity 3.0. Higgs, Colin & Way, Richard & Harber, Vicki, Jurbala, Paul, Bayli, Istvan. (2019). Long-Term Development in Sport and Physical Activity 3.0. Canadian Sport for Life. ISBN: 978-1-927921-62-3.
Long Term Athlete Development Information for Parents presented by the Coaching Association of Canada
Sport for Life No Accidental Champions: LTAD for Athletes
with a Disability (2nd Edition)
Sport for Life for all Newcomers to Canada
Sport for Life Aboriginal Long–Term Participant Development Pathway 1.1
Steidl-Müller, Lisa & Hildebrandt, Carolin & Raschner, Christian & Müller, Erich. (2019). Challenges of talent development in alpine ski racing: a narrative review. Journal of Sports Sciences. 37. 601-612. 10.1080/02640414.2018.1513355.
Vernillo Gianluca, Coulmy Nicolas, Millet Grégoire P. (2019). Editorial: Recent Evolutions and Perspectives in Olympic Winter Sports Performance: To PyeongChang and Beyond…Frontiers in Physiology.10. p.481. https://www.frontiersin.org/article/10.3389/fphys.2019.00481. DOI=10.3389/fphys.2019.00481
ISSN=1664-042X