ACA LTAD 3.0 Development Pathway
"If you look at any superior athlete, you will find a strong parental influence. Parents introduce their children to a sport, and then they support them." ~ Ivan Lendl
Parents play a significant role in the development of Canada's future champions in sport and life. As a parent, you safeguard your children and give them the best opportunities.
Photo: Malcolm Carmichael 2019 Caribou Cup Banff Alpine Racers, Audi 2019 Canadian Ski Racing Award winning club.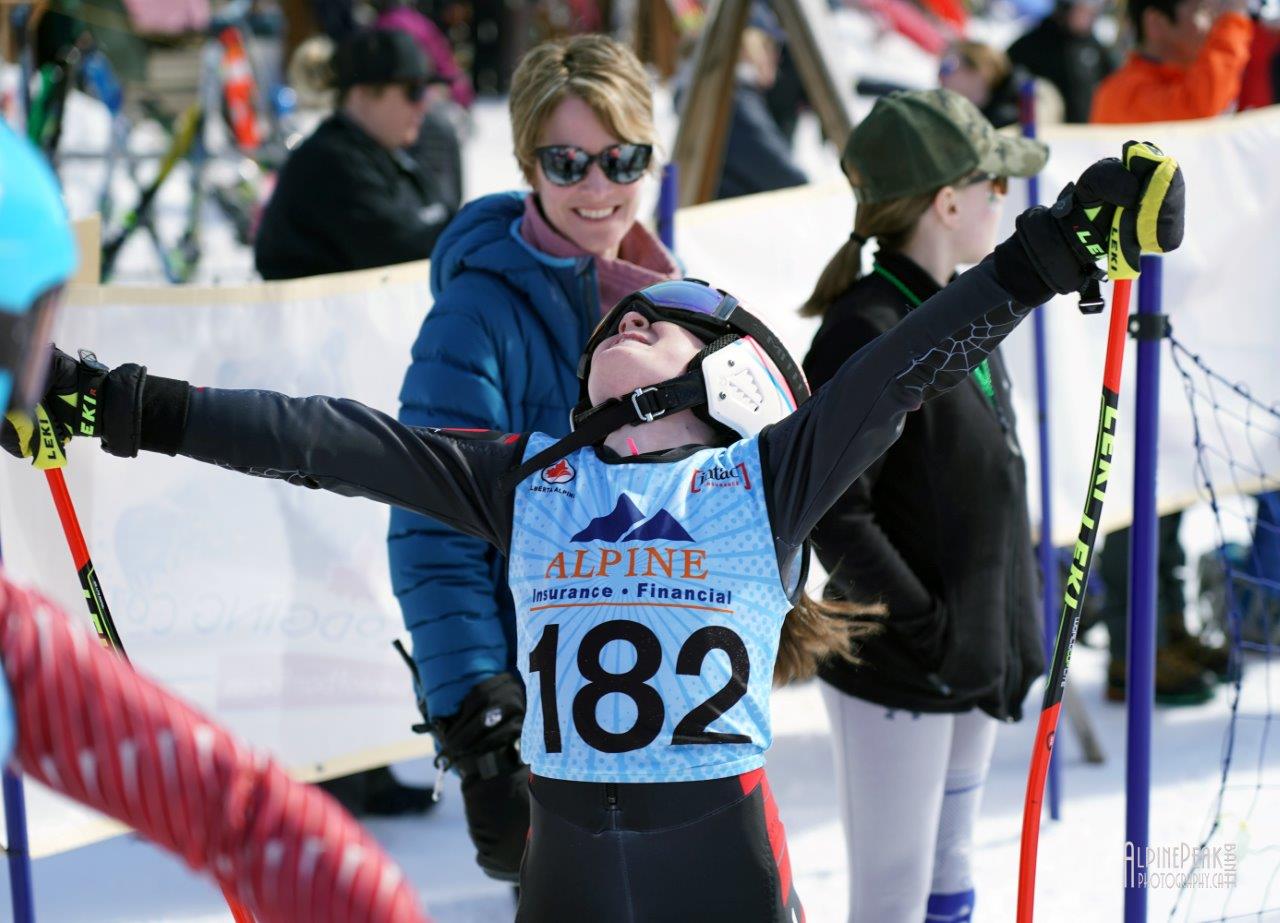 UNIQUE PATHWAYS
Parents introduce their children to skiing; coaches help them to develop a lifelong love of sliding snow sports participation. Meaningful experiences in ski racing provided through the support of parents and coaches result in friends for life, opportunities to learn new skills and the development of a passion for skiing for life. At Alpine Canada, we understand that no two individuals will follow the same development pathway to ski racing excellence.
All ski racers start their journey when they are first introduced to the sport of ski racing, as skiers become more involved, they enter the skier essentials and learn to train stages. Skiers and ski racers with strong technical skiing skills acquired through the learn to train stage can have the opportunity to follow a variety of pathways depending on their characteristics and capabilities. Ideally, these pathways will lead to the achievement of their competitive potential in the train to win stage and onto excellence in the race to win stage, eventually transitioning into the ski for life stage.
For example, as represented in the graphic:
Participant A might stay in one of their first sports from entry right through to World Championships and Olympic or Paralympic Winter Games.
Participant B starts in a different sport or begins their journey later, then during adolescence finds the sport they pursue through to the Olympic or Paralympic Winter Games.
Participant C starts with having early success in one sport, then focuses on another sport before returning to focus on their first love.
Participant D achieves a high level of success in one sport but then transfers to another sport, which results in having to go back through the stages of development before succeeding in their new sport.
Participant E becomes involved in many sports, never pursuing or advancing into the train to train stage, but has quality experiences and is active for life.
Participant F becomes aware of opportunities later in life, then through a positive first involvement becomes active for life.
Important LTAD pathway concepts include:
Ski racers have support along their journey primarily from their parents and coaches working in collaboration with the ski racer to ensure they have the best opportunity to achieve their potential.
An understanding that there are multiple pathways for participants to achieve success including changing focus and returning later to ski racing.
Balanced development in sport and physical activity means paying attention to more than just skills and physical capacities. Development occurs across a range of domains including physical, technical, tactical, psychological, and life skills must be addressed for individuals' advancement throughout all stages of the ACA LTAD 3.0.
Regardless of the pathway, or at what stage ski racers leave the competitive stream, all participants end up in the ski for life stage on one of its three paths:
Skiing competitive through a Master's race program.
Taking part and supporting ski racing by becoming a race official, coach, volunteer or board member.
Ski for fun and enjoyment to remain fit for life.
REFERENCES
Sport for Life - Long Term Development in Sport & Physical Activity 3.0. Higgs, Colin & Way, Richard & Harber, Vicki, Jurbala, Paul, Bayli, Istvan. (2019). Long-Term Development in Sport and Physical Activity 3.0. Canadian Sport for Life. ISBN: 978-1-927921-62-3.