02
Physical Literacy
Physical literacy is a foundational pillar of long-term athletic development in ski racing which includes the accumulation of physical movement and sports skills refined over the lifetime of a skier.
Physically literate individuals can move with poise, economy, and confidence in a wide variety of physically challenging activities. Physically literate individuals have a well-established sense of self in the form of positive self-esteem and self-confidence.
Alpine Canada firmly believes in a long-term strategic approach to developing physically literate and strong technical skiers resulting in the development of healthy, competitive, successful ski racers whose skill set targets the specific requirements of ski racing and the promotion of skiing for life.
"As long as you are fit and healthy and have the skills, nothing should stop you from winning, young or old." - 2017 Super-G World Champion Erik Guay.
Photo: Kelsey Serwa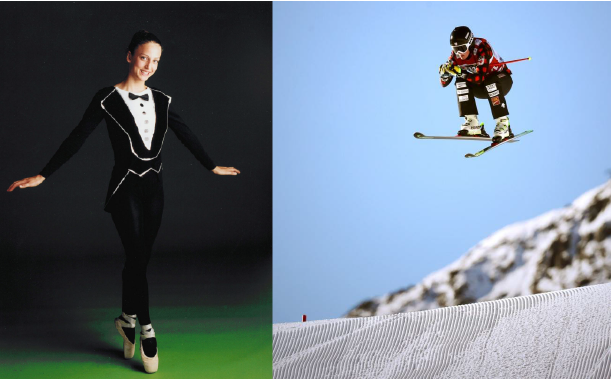 ---
Physical Literacy
The world's top skiers are proven to be some of the most physically literate athletes because success in ski racing requires an individual to be physically fit and execute proper technique and tactics in a high performance, ever-changing environment. A physically literate skier will be perceptive in 'reading' all aspects of their physical environment, anticipating movement needs and responding appropriately to the changing demands placed on the athlete through the use of practical decision-making skills and creative variation.
Fundamental movement skills represent the basis of physical literacy. These skills are critical in the development of a skier as they provide the foundation on which to participate in complementary sports and ski racing. Previous research demonstrates that without the development of the fundamental movement skills, many children and youth choose to drop out of sports participation.
In the early stages of a skier's career, the fundamental movement skills are developed. Proper development of the fundamental movement skills allows skiers to excel in ski racing and the various complementary sports that support the development of their athletic abilities throughout their skiing career.
OUR SKIERS NEED TO BE PHYSICALLY FIT AND LITERATE IN A BROAD RANGE OF SETTINGS. THE RESPONSIBILITY FOR DEVELOPING A PHYSICALLY FIT AND LITERATE SKIER ULTIMATELY RESTS WITH PARENTS AND GUARDIANS IN PARTNERSHIP WITH THEIR COACHES AND LOCAL SKI CLUB.
Fundamental Movement Skill Categories:
Stability Skills - the ability to sense a shift in one's body that causes one to be off balance and the ability to adjust rapidly and accurately to maintain stability with the appropriate compensation movement. Examples include balancing, twisting, dodging, pushing, pulling, and turning.
Locomotor Skills - movements that are responsible for transporting the body from one place to another. Examples include walking, running, jumping, sliding, and skipping.
Manipulative Skills - movements that are responsible for either sending away, receiving, or travelling with an object such as a ball, puck, or disc.
Learn more by visiting these valuable resources:
Complementary Sports for Skiing
Elite performance through early diversification
Skiers who engage in complementary sports experience a variety of physical, psychological, emotional and social environments that lead to the development of intrinsic motivation, which serves as the basis for elite sport. (Côte et al., 2009). These diverse experiences develop physically literate skiers that can refine their sport-specific skills to achieve elite performance levels in skiing through the transfer of learning from one sports discipline to another sport. (Moesch et al., 2011).
Alpine Canada believes that targeting participation in the complementary sports of alpine skiing will be instrumental in the development of competitive advantage. Although the literature supports the development of fundamental movement and sports skills before the onset of puberty, participation in complementary sports along with the development of physical literacy remains a common theme throughout all stages of the long-term athlete development model for skiing.
Parents, coaches, and ski clubs supporting athletes who wish to excel as successful ski racers or lifelong participants in skiing should target complementary sports participation with a strong correlation to the physical and mental demands of skiing. The listings provided below give an overview of complementary sports organized by their ski specific attributes.
Body Awareness
Skiers with a highly developed sense of where their body is relative to time and space have a reduced chance of sustaining injury throughout their career because they can react quickly and accurately. Sports participation in gymnastics, trampoline, parkour, dance, and martial arts support the development of body awareness, flexibility, strength, balance, and risk assessment.
Balance/Edge Control
Sports that assist in the development of balance and edge control during skiing include ice skating, inline skating, cross country skate skiing, water skiing, and other boarding activities inclusive of skateboarding, wakeboarding, kiteboarding, surfing, windsurfing and slacklining to promote the development of balance, body awareness and edge control.
Speed and Terrain Management
Several of Alpine Canada's top skiers are proficient in sports that promote the development of the critical skills required to manage skiing at high speeds over terrain features including the maintenance of balance, risk assessment, physical fitness, decision-making skills, vision, grit, and choice of a line down a course. Cross-country and downhill mountain biking, riding through a pump track, motocross, BMX cycling, water skiing, and wakeboarding all contribute to a skier's ability to ski with speed over terrain features.
Fitness
Being physically fit is critical to ensuring that skiers have the required fitness levels to endure long periods of on-snow training and competing. Skiers need strength, power, stamina, agility and coordinative abilities to manage the more challenging situations presented to skiers when competing in the alpine, ski cross, and para-alpine disciplines. Complementary sports participation is necessary to ensure the physical fitness requirements are met to support athletic excellence and prevent injury. Complementary sports targeting the development of physical fitness include climbing, cycling, running, track and field, weightlifting, tennis, rugby, soccer, ice hockey, surfing, and classic Nordic skiing.
Physical Literacy Assessment for Youth
What is PLAY?
PLAY stands for Physical Literacy Assessment for Youth. It's a series of physical literacy assessment tools that were developed by Sport for Life Society to determine the level of an individual's physical literacy. These worksheets can be used to monitor, measure, and manage a skiers development by coaches, parents, and other sporting professionals.
PLAY comprises a suite of instruments:
PLAYfun is used by a trained professional* to assess a child in 18 fundamental skills/tasks, such as running, throwing, kicking and balance.
PLAYbasic is a simplified version of PLAYfun that can be administered quickly by a trained professional in movement analysis to provide a snapshot of a child's level of physical literacy.
PLAYself is used by children and youth to evaluate their physical literacy.
PLAYparent is used by parents of school-aged children to assess their child's level of physical literacy.
PLAYcoach is used by coaches, physiotherapists, athletic therapists, exercise professionals and recreation professionals to record their perceptions of a child's level of physical literacy
PLAYinventory is a form used to record and track a child's leisure-time activities throughout the year
PLAYself, PLAYparent and PLAYcoach do not evaluate skills; they are forms used to supplement the skill assessments, PLAYbasic and PLAYfun.
*Trained professionals: coaches, physiotherapists, athletic therapists, exercise professionals, and individuals trained in movement analysis.
The PLAY tools were created by Dr. Dean Kriellaars, of the University of Manitoba, for Sport for Life Society.
For more information, visit the PLAY Tools Frequently Asked Questions or visit http://physicalliteracy.ca.