04
Train to Train
BUILD THE SKI RACER
Discovery of ski racing and fun while continuing to consolidate and refine technical skiing skills in more structured competitive and unstructured competitive environments. The primary goal is to develop solid technical skill execution in all situations and environments at varying speeds. Ski racers begin to understand the use of dynamic, athletic turns in the different training environments to generate and maintain speed in a variety of tactical environments. By the end of the Train to Train stage, performance begins to become more consistent in various demanding training and competition environments.
Boys 12-16
Girls 11-15
Adolescent Growth Spurt
Rising Stars
Club Level
Local & Provincial level events
National Championships
Beginning International FIS events
Photo: Malcolm Carmichael, ACA U16 Rising Stars Athlete Emma Carmichael. December 2017.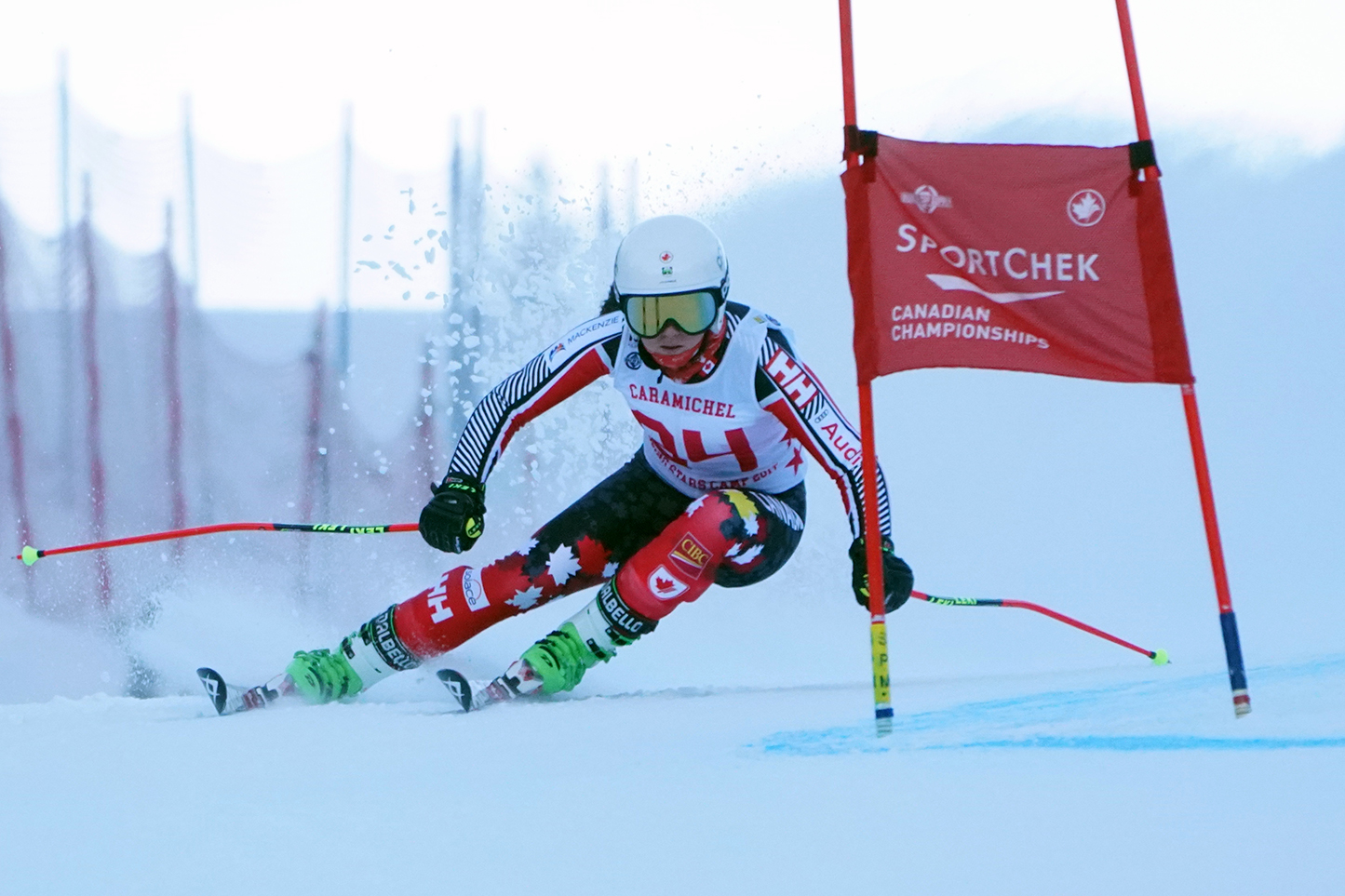 ---
Technical Focus
Ski racers demonstrate outside ski pressure throughout the turn and become aware of the skis orientation on the snow through the maintenance of a good athletic ready position on skis while carving in a variety of environments.
Ankles flexed (tension) resulting in shin pressure with knees driving towards the ski tips. Shin pressure allows the hips (COM) to be in the best position for success.
Parallel skis with hip to shoulder width stance.
Everything is inline including the ski tips, bindings, knees, shoulders.
Hips are perpendicular to the skis.
Body movement between turns and over terrain is forward, moving with the skis through transitions.
Ski racers are proficient at weight transfer between symmetrical turns to enable the ski racer to carve on the outside ski.
Ski racers experiment with different edge angles on the steep and flat terrain.
Upper body should remain stable and quiet.
Proper upper and lower body separation is used to direct forces to the outside ski resulting in a stable platform.
Pole plant timing and coordination will become more consolidated and disciplined.
The most important thing is to have pressure on the front of the boot giving them the best chance to be in the middle of the ski in all situations. Ski racers must maintain the correct body position on the skis at all times!
Ski racers should practice carving turns outside ski to outside ski and one ski skiing to consolidate the fundamental skiing skill of carving a turn with the proper upper and lower body separation and forward body position on the ski through the use of ankle flexion to promote the establishment of a platform utilized to apply force to the ski.
Ski racers learn to control and generate speed through the use of different turn shapes, short and long radius turns, on all types of terrain.
Ski racers continue to perform technical free ski skills with control and rhythm in a variety of different environments.
Changing one variable from one run to another adds contrast and allows drill repetition without repeating.
Ski racers consolidate their tucking, gliding and jumping skills over natural terrain, small platform jumps, terrain park and ski cross features.
Ski racers should be formally introduced to full ski cross courses and the speed disciplines of Super G and Downhill.
During this stage, a ski racers coordination of movement can become uncoordinated due to rapid growth.
Focusing on maintaining a good technical skiing foundation during this period of rapid growth is a required component of the ski racers training program. Frequent technical free ski sessions are encouraged.
IN THE WINTER MONTHS, SKI RACERS SHOULD STRIVE TO ATTAIN A MINIMUM OF 80+ DAYS ON SNOW BY PARTICIPATING IN A STRUCTURED SKI RACING PROGRAM. SKI RACERS SEEKING THE COMPETITIVE PATHWAY WILL REQUIRE SIGNIFICANTLY MORE TIME ON SNOW THAN THE RECOMMENDED MINIMUM NUMBERS OF DAY ON SNOW.
Tactical Focus
Continue to create fun and challenge ski racers to develop and maintain their foundational technical skiing skills in a variety of course configurations and terrain in preparation for competition. Make the whole run count every time; when setting drill courses, set multiple environments on one trail if possible.
Introduce the importance of "line" in ski racing through the use of tactical drill course sets.
Continue to work on tactical application of foundational technical skiing skills in open rhythmical/arrthythmical giant slalom and slalom courses with rolling terrain.
Course sets that cause ski racers to move over terrain is encouraged. Learning how to keep the skis on the snow in a variety of terrain changes is a ski racing skill.
Set courses through rolling terrain where ski racers need to turn over rolls and generate speed in all disciplines; ski fall-away turns.
Start training is encouraged. Train with a variety of start ramp angles.
Work on foster good inspection skills during training through the use of race simulations or time-trials.
Training environments should promote self-discovery by the ski racer allowing the ski racer to easily analyze an error and try a different tactic.
Introduce the concept of gliding and glide turns with Super-G and Downhill courses to promote comfort at speed and get a little "wind in the face".
Introduction to "small & medium" terrain park features.
Terrain used for developing jumping skills becomes progressively bigger; aim for a 10m distance w/1m above ground flight.
Ski racers participate in simple lead/follow drills.
Change training venues as often as possible to add variation and fun!
Ski racers are encouraged to use the whole mountain as their playground and explore every terrain feature.
Failure is part of the learning process if the ski racers are pushing their limits in training courses, they will fail, but can learn from their mistakes with the proper mindset.
Ski racers in the Train to Train stage will have challenges at times due to natural growth & maturation processes. Ski racers need guidance and support at times to overcome errors from coaches and parents.
Ski racers should be encouraged to train in a variety of environments including:
Course setting on various terrain is encouraged.
Change training venues as often as possible to add variation.
Course sets should create the opportunity for ski racer self-discovery.
Set on easy, moderate, and difficult terrain. Terrain should be used as a self-discovery tool.
Course sets should include competition simulation.
Course sets include the following events:

Giant Slalom
Slalom
Super Giant Slalom
Downhill
Parallel Slalom and Giant Slalom
Dual Formats/Team Event

Introduce simple Ski Cross courses and begin to develop the ability to ski in traffic and awareness of surroundings when skiing.
Set regulation sized Super G and Downhill courses; ski on longer skis

Glide turns
Jump progressions
Movement over terrain with speed skills
IN THE WINTER MONTHS, SKI RACERS SHOULD STRIVE TO ATTAIN A MINIMUM OF 80+ DAYS ON SNOW BY PARTICIPATING IN A STRUCTURED SKI RACING PROGRAM. SKI RACERS SEEKING THE COMPETITIVE PATHWAY WILL REQUIRE SIGNIFICANTLY MORE TIME ON SNOW THAN THE RECOMMENDED MINIMUM NUMBERS OF DAY ON SNOW.
---
REFERENCES:
ACA LTAD Alpine Ski Training Focus Matrix
ACA LTAD Para-Alpine Progression Matrix
ACA LTAD Ski Cross Progression Matrix
ACA LTAD Speed Development Progression Matrix