08
Women in Skiing
Since 1956, top female Canadian skiers have been inspiring and supporting the next generation. Anne Heggtveit, the winner of Canada's first ever Olympic gold medal in alpine skiing in the women's slalom at the 1960 Olympic Winter Games in Squaw Valley, California, shares some great advice for our young Canadian ski racers.
"I would tell them to aim for the top. Go for the gold. It takes determination and hard work. But you can do it. If that is really what you want to do and you've got the talent, you can get there with hard work."
Interview by Jeremy Freeborn with Anne Heggtveit for The Canadian Encyclopedia(2014)
Photo: ACA Rising Stars December Camp at Panorama Mountain Resort taken by Malcolm Carmichael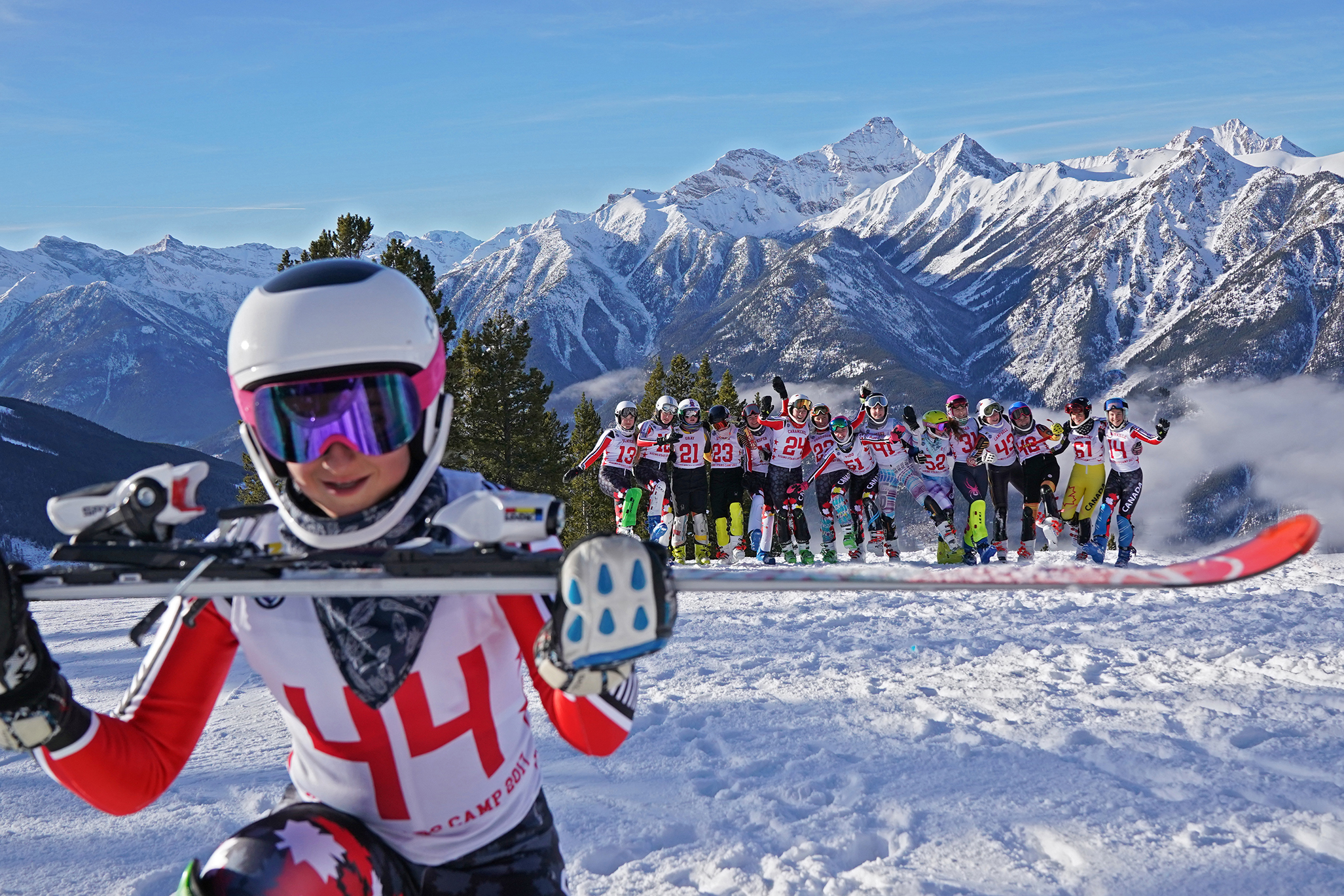 ---
#SHECANSKI
The number of women and young girls participating in physical activity, recreation and elite competitions has increased immensely in the last 30 years. Women and girls are empowered when they are physically literate which can be developed by playing complementary sports and skiing. A young woman's confidence comes from practice, mistakes, setbacks, recovery, mastery and most of all success. Whether or not a young woman goes onto become a professional athlete, the confidence they gain from moving well will have a positive impact well into adulthood.
In 1956, the sport of alpine skiing fell into the limelight when Lucile Wheeler won Canada's first Olympic medal a bronze in downhill at Cortina d'Ampezzo, Italy. Lucile also unexpectedly won the world championship titles in both downhill and giant slalom in 1958. These wins inspired Canada to send a national team to Europe the following year. Lucile was a trailblazer and inspired all our female Canadian ski racers to aim for the top and go for the gold.
Women inspiring the next generation of young alpine ski racers:
Melanie Turgeon on Dreaming Big - Fast and Female ambassador and 2003 World Champion in Downhill skiing - Mélanie Turgeon - shares the biggest lesson she's learned from her athletic career: DREAMING BIG! Watch this clip as she tells us how she decided to own her big dream and became World Champion.
Georgia Simmerling talks about the importance of teammates! - Fast and Female TV: Georgia Simmerling, a member of the SkiCross National Team, talks to Fast and Female about the importance of teammates. When travelling for many months during the year to compete, your teammates become your family on the road. They can help bring you to the top of your game or give you a boost when you need confidence. Although in SkiCross Georgia's teammates are actually her competitors, they are also her closest friends and allies on the road and help her towards reaching her highest potential. Keep your teammates close!
Pre-race and pre-training warm-up with Marie-Michele Gagnon - Fast and Female TV: Pre-race and pre-warmup routine with World up and Olympic alpine ski racer Marie-Michele Gagnon. See how she prepares for an important race or a big workout in the gym. Simple yoga stretching and breathing helps Marie-Michele Gagnon get moving in the morning!
We hope young girls all over the world look up to these strong, resilient and determined women; they are truly an inspiration. Sport can do such amazing things as viewed by this most recent trailer from CBC Sports celebrating women in sports, including several past and current Alpine Canada national team athletes.
WOMEN IN SPORT RESOURCES
Canadian Association for the Advancement of Women and Sport and Physical Activity (CAAWS) - We are dedicated to creating an equitable and inclusive Canadian sport and physical activity system that empowers girls and women – as active participants and leaders – within and through sport. With a focus on systematic change, we partner with governments, organizations and leaders to challenge the status quo and to advance solutions that result in measurable change.
Coaching Association of Canada Women in Coaching - Women represent an untapped resource throughout the sport community. Women have different life and leadership experiences, values, and attitudes which equip them with valuable sport expertise and perspective. Women in Coaching is a national campaign to increase the number of coaching opportunities for women, at all levels of sport. Directed by the CAC, the program enjoys the support of many individuals and organizations committed to improving the coaching environment for women in sport.
Fast and Female - Fast and Female's vision: create a positive, empowering culture for all girls in sports.
Tucker Center for Research Girls & Women in Sport - The first of its kind in the world, the Tucker Center is an interdisciplinary research center leading a pioneering effort to examine how sport and physical activity affect the lives of girls and women, their families, and communities.
Own the Podium Women in Coaching Initiative - The coaching enhancement program (CEP) has prioritized providing financial support to the Coaching Association of Canada's Women in Coaching program, in addition to targeted investment opportunities for female coaches at the next generation and pathway levels.
Women's in Sport Foundation - The Women's Sports Foundation is dedicated to creating leaders by ensuring girls access to sports.
Women in Sport - United Kingdom website with links to research around women in sport.