Safe in Sport
"Alpine Canada is dedicated to ensuring the safety of every participant in the sport of ski racing. Alpine Canada is ready to collaborate with any organization that is committed to improving safety, respect and prevention of harassment in sport. We welcome all initiatives proposed or developed by any relevant and experienced organization across the country that will help achieve this goal." - Vania Grandi, President & CEO Alpine Canada
Photo: Malcolm Carmichael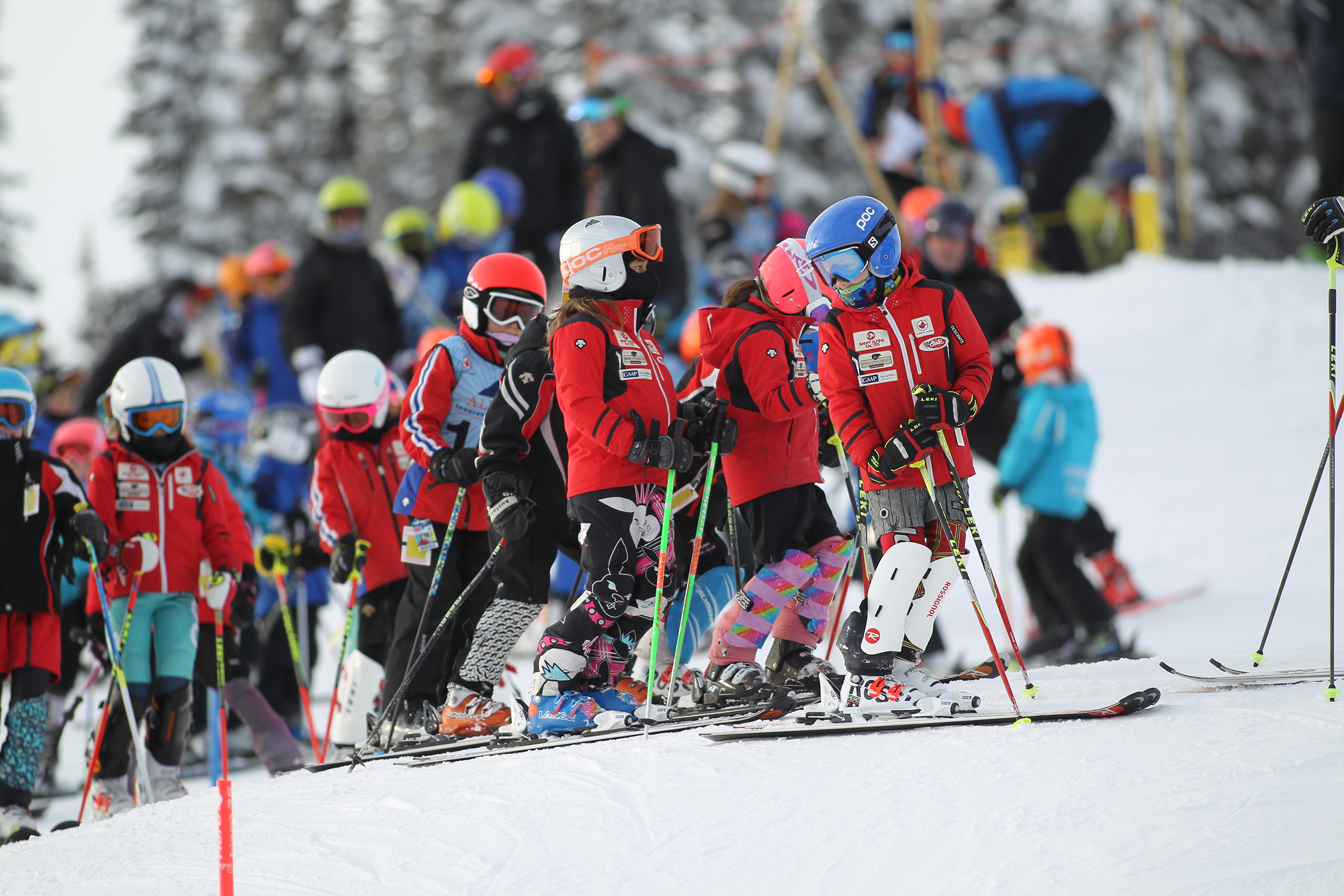 ---
Overview
Alpine Canada is committed to providing our athletes with safe, inclusive, and supportive training and competition environments to enable each athlete to achieve their maximum potential. Everyone has a role to play in creating a healthy physical and mental environment for sport participation. Our Safe in Sport program aims to raise awareness about misconduct in sport, promote open dialogue, and provide training and resources for clubs, coaches, officials, athletes, parents and volunteers. We recognize the unique relationship that is formed between athletes and coaches. As part of this commitment, Alpine Canada has partnered with Respect Group Inc. (RGI) to further educate and empower stakeholders through interactive, online certifications. All sports organizations have a responsibility to ensure that all coaches and athletes understand the unique nature of this relationship and that the trust formed between athletes and coaches is not abused or taken advantage of by those in positions of authority or power.
To this end, Alpine Canada is committed to the following that protects athletes and other stakeholders in our sport:
Any sexual relationship between an athlete and a coach is strictly prohibited, regardless of age, 'consent' or other factors. We have a zero-tolerance policy.
Comprehensive policies are in place prohibiting any form of abuse, harassment or discrimination.
All Alpine Canada athletes, coaches and staff are educated on the policies of the organization, including the responsibility to report any suspected violations of our policies promptly and confidentially.
All coaches accredited by Alpine Canada must undergo a criminal background check as part of the accreditation process. All provincial ski associations and local ski clubs across Canada have access to a database that enables verification of coach accreditation before employment.
All coaches employed or accredited by Alpine Canada are required to abide by The Coaching Code of Conduct, which outlines the responsibilities and obligations of coaches in working with athletes.
Policy in place to recognize, respond to and report instances where the code of conduct has been breached, including whistleblower policy. All athletes and all other personnel within the Alpine Canada program can report any concerns or complaints that will be dealt with on a timely and confidential basis.
All ACA staff coaches required to complete the National Coaching Certification Program (NCCP) module "Make Ethical Decisions".
Mandatory harassment training through the Respect Group for all ACA staff, coaches, athletes and contractors.
Creation of a U18 Safe in Sport policy.
Rule of Two criteria included in ACA U18 Safe in Sport Policy.
Annual reviews of all safety policies.
Annual ACA-CSC coaching database updates to provide all Provincial and club partners a centralized location to review an active ACA-CSC member coach status to ensure they have met the requirements to be licensed, including the completion of a background screen, signature of the coaching code of conduct and the identification of coaches who have breached the coaching code of conduct.
In addition to the partnership with Respect Group Inc., Alpine Canada has updated many of its policies and procedures and will continue to expand and build new policies during our annual review process to ensure the maintenance of a safe sports environment for all athletes. Alpine Canada will continue to work with provincial ski associations, other national sports federations and the Canadian Olympic Committee on all relevant initiatives that strengthen the prevention of any form of abuse, harassment or discrimination locally, provincially and across all sports.
Responsible Coaching Movement
In July of 2018, Alpine Canada committed to and signed the Coaching Association of Canada's Responsible Coaching Movement (RCM) Pledge. By committing to take the pledge, Alpine Canada will continue to ensure that policies and procedures are in place and accessible to athletes and coaches to protect everyone.
Every ski racer deserves a responsible coach.
"I believe coaches, administrators and volunteers strive to create an environment where all athletes can reach their full potential. That environment includes protection from emotional and physical harm, but best intentions are sometimes not enough. The power in pledging alignment with the Responsible Coaching Movement is the commitment to having structures, policies and practices in place that ensure we can deliver on our intentions." ~ Brien Perry, Director, Domestic Sport Alpine Canada.
What is the Responsible Coaching Movement?
The Responsible Coaching Movement (RCM) is a multi-phase system-wide movement, coordinated by the Coaching Association of Canada and the Canadian Centre for Ethics in Sport that has the potential to affect all sport organizations and coaches. The RCM is a call to action for organizations to implement realistic change based on their individual state of readiness.
The Responsible Coaching campaign invites parents to consider 3 important questions to ask your child's coach and encourages them to play a more active role in their child's sport activities by empowering them with tools to ask a coach if their organization has taken the RCM pledge and adopted the policies.
Does my child's coach follow the Rule of Two?
Has my child's coach been screened (including having a criminal background check)?
Has my child's coach taken respect in sport and ethics training?
The RCM is the result of extensive ongoing consultation with the Canadian Sport Community. These consultations will guide the different phases of the RCM that will address the role coaches play with issues relating to the health and safety of athletes, both on and off the field of play.
For more information on Coaching Association of Canada's Responsible Coaching Movement, please visit:https://www.coach.ca/responsible-coaching-movement-s17179.
---
For Anyone Who Suspects Abuse
If you have a concern about a child and want to talk to someone, contact the Canadian Centre for Child Protection. If you suspect abuse, report it to your local child welfare and/or police.
Canadian Sport Helpline
Kids Help Phone
Reporting Child Sexual Abuse and Misconduct
Need Help Now
Cybertip.ca
Sport Manitoba Support Line: 1-877-737-9875
Respect Group, Toll-Free: 1-888-329-4009 or email resourceline@respectgroupinc.com
Policies and Procedures
Alpine Canada's Policies and Procedures are the specific processes used to implement the policies of the organization in its' day-to-day operations.
Alpine Canada encourages all registered members and organizations to follow the policies and procedures presented here. Additional policies and procedures, including alterations to current policies and procedures, may occur as required.
Policies can be accessed by clicking on the policy name below. For more Alpine Canada policies, please see our main Alpine Canada website.
Safe Sport for All
On March 13, 2019, the Honourable Kirsty Duncan, Minister of Science and Sport, announced funding to the Sport Dispute Resolution Centre of Canada (SDRCC) to launch two initiatives that will complement each other: an investigation unit and a national toll-free confidential helpline for harassment, abuse and discrimination.
These initiatives are important components of the Government of Canada's overall approach to addressing the issue of harassment, abuse and discrimination in Canadian sport.
Investigation Unit
The SDRCC is launching a third-party investigation unit as a pilot project to provide an independent service for federally funded national sport organizations, multisport service organizations, and Canadian sport centres and institutes to investigate harassment, abuse and discrimination complaints.
The services offered by this unit are provided to sport organizations on a fee-for-service basis by trained independent investigators.
This pilot project will end in March 2020, when it will be assessed with a view to improving upon best practices.
For more information, visit http://www.crdsc-sdrcc.ca/eng/investigation-unit.
Canadian Sport Helpline
The bilingual national toll-free confidential helpline for harassment, abuse and discrimination launched on Monday, March 11 and provides a safe place for victims and witnesses of incidents of harassment, abuse and discrimination in sport to report their concerns.
The Canadian Sport Helpline will provide callers with advice on the next steps they can take, as well as direct them to the most appropriate national and local services and resources available to them, including the police, child protection services, existing provincial/territorial helplines, or any other relevant services.
It provides professional listening and referral services by phone and text at 1-888-83-SPORT (77678) and by email at info@abuse-free-sport.ca, from 8 a.m. to 8 p.m. ET, seven days a week.
For more information, visit www.abuse-free-sport.ca.
REFERENCE:
Safe Sport for All News - Canadian Heritage; March 13, 2019
---
For Anyone Who Suspects Abuse
If you have a concern about a child and want to talk to someone, contact the Canadian Centre for Child Protection. If you suspect abuse, report it to your local child welfare and/or police.
Canadian Sport Helpline
Kids Help Phone
Reporting Child Sexual Abuse and Misconduct
Need Help Now
Cybertip.ca
Sport Manitoba Support Line: 1-877-737-9875
Respect Group, Toll-Free: 1-888-329-4009 or email resourceline@respectgroupinc.com
Concussion
Alpine Canada Alpin (ACA) has developed the Alpine Canada Concussion Protocol to help guide the management of athletes who may have a suspected concussion as a result of participation in alpine skiing - related activities, in conjunction with the Parachute Canada harmonized Sports concussion protocol based on the new International Consensus Statement on Concussion in Sport, along with updated new concussion resources, that were publically released in April 2017. Published in the British Journal of Sports Medicine, the statement is primarily for use by physicians and healthcare professionals who are involved in the care of injured athletes.
It is a result of the 5th International Conference on Concussion in Sport held in Berlin, October 2016, and revises and updates earlier recommendations developed following the 1st (Vienna 2001), 2nd (Prague, 2004), 3rd (Zurich, 2008) and 4th (Zurich, 2012) international conferences.
Updated, new resources include the Concussion Recognition Tool 5 (CRT5), the Sports Concussion Assessment Tool V5 (SCAT5) and the Child SCAT5 for children ages five to 12 years. The authors encourage readers to copy and distribute freely all these documents but to do so without altering them or converting them to a digital format
See more at Parachute Canada Article on Internation Consensus Statement on Concussion in Sport
*Provinces and territories may have provincial or territorial specific concussion protocols, please check with your local provincial or territorial organization for more details on concussion management in your local province or territory.
---
Prepared by ACA medical staff, last update: August 2017
2017-2018 CONCUSSION PROTOCOL PTSO/CLUB LEVEL

Alpine Canada Alpin (ACA) has developed the Alpine Canada Concussion Protocol to help guide the management of athletes who may have a suspected concussion as a result of participation in alpine skiing - related activities, in conjunction with the Parachute Canada harmonized Sports concussion protocol.

Purpose

This protocol covers the recognition, medical diagnosis, and management of ATHLETES who may sustain a suspected concussion during a sports activity. It aims to ensure that athletes with a suspected concussion receive timely and appropriate care and proper management to allow them to return to their sport safely. This protocol may not address every possible clinical scenario that can occur during sport-related activities but includes critical elements based on the latest evidence and current expert consensus.

Who should use this protocol?

This protocol is intended for use by all individuals who interact with athletes inside and outside the context of school and non-school based organized sports activity, including athletes, parents, coaches, officials, teachers, trainers, and licensed healthcare professionals. For a summary of the ACA Concussion Protocol, please refer to the Concussion Pathway figure below.
View the full protocol at 2017-2018 Alpine Canada Concussion Protocol PTSO/Club Level
Canadian Sport Concussion Pathway
The figure that follows is a visual representation of the decision\making pathway that reflects the recommendations in this guideline.
Respect Group Inc
Respect Group
was incorporated on April 5th, 2004 by co-founders, Sheldon Kennedy and Wayne McNeil, to pursue their shared passion: the prevention of abuse, bullying and harassment.
Respect Group has enlisted internationally acclaimed curriculum partner, the Canadian Red Cross and created a best-in-class e-learning platform. Expert content and a professional online certification model round out Respect Group's fully outsourced risk management behaviour-change solutions for sport, schools and the workplace.
Respect Group Inc. Misson
Empowering people to recognize and prevent abuse, bullying and harassment through interactive, online certification.
Respect Group Inc. Vision
Eliminate abuse, bullying and harassment by inspiring a global culture of respect.
Respect Group Programs
Respect Group programs were developed in partnership with the Canadian Red Cross to provide organizations with a bilingual and cost-effective abuse, bullying and harassment solution. Making good people better is the result.
Respect matters everywhere; our programs enable your organization to:
Fully embrace what is right
To know how to respond appropriately
To feel safe to act when they see or experience something that is wrong
Respect in Sport
Alpine Canada participates and promotes the following three Respect Group Programs:
ACTIVITY LEADER PROGRAM
Respect in Sport for Activity Leaders offers a highly engaging and easy to use internet-based training course for sport leaders of all levels; (recreational, competitive and elite).
PARENT PROGRAM
Respect in Sport for Parents is a unique certification program complementing Respect in Sport for Activity Leaders by reinforcing a parents role in a child or youth's activities, encouraging positive sport behaviours, and providing insight into the various roles other individuals (such as coaches and officials) play.
Respect in the Workplace
Respect in the Workplace was developed to provide organizations, of all sizes, in any industry, with a standard tool for all employees to combat bullying, abuse, harassment and discrimination (BAHD) directly.
Quality Sport Experience
As defined by Sport for Life is, "Quality sport is developmentally appropriate, safe and inclusive and well run. Quality sport is based on Long-Term Athlete Development factors and principles. Quality sport optimizes an individual's potential both athletically and personally. Quality sport promotes the optimal holistic development of healthy individuals, who, in turn, can make positive contributions to society".
GOOD PROGRAMS THAT PROMOTE THE QUALITY SPORT EXPERIENCE ARE:
Developmentally appropriate
Participant-centered
Progressive and challenging
Planned and competition is meaningful
GOOD PEOPLE, LEADING WELL-RUN PROGRAMS THAT PROMOTE THE QUALITY SPORT EXPERIENCES INCLUDE:
Coaches and officials
Leaders
Parents
Partners
Fun is essential to keeping young skiers involved in ski racing. It's commonly known that attrition from youth sport, in general, is high, as high as 70% (Eitzen & Sage, 2009). This statistic is mostly attributed to negative sport experiences (Fraser-Thomas & Côte, 2006).
The number one reason young athletes cite for dropping out of youth sport is that it is no longer "fun." The primary reason they continue to play is that sport participation is "fun" (Visek & Manning, 2014).
GOOD PLACES, CREATING GOOD FEELINGS AND PROMOTING THE QUALITY SPORT EXPERIENCE INCLUDE:
Inclusive and welcoming
Fun and fair
Holistic
Safe
Until recently, we did not fully understand the true meaning of fun from the perspective of developing ski racers. Fun is not just goofing around; it's sophisticated. The fun integration theory identified 81 specific fun determinants with four fundamental tenets organized into 11 key fun factors with the first three factors creating the youth sport ethos being the most important to promoting youth participation in sport (Visek et al. 2015).
FUN IS SYNONYMOUS WITH LONG-TERM ATHLETE DEVELOPMENT AND RETENTION IN THE SPORT OF SKI RACING.
Avalanche Snow Safety
The following information is provided as an introduction to the resources available for skiers preparing to ski in an uncontrolled mountainous environment, this information does not replace formalized training. Please utilize the reference links provided at the bottom of the page to gain access to professional education through an accredited avalanche training course provider.
Avalanches are the most significant threat to the safety of anyone recreating in an uncontrolled mountainous country during the winter months. Avalanches can occur within a ski area boundary or outside the ski area in the backcountry. It's important to understand the risk that comes with skiing in an uncontrolled environment. The majority of avalanche victims trigger the avalanche that injures or kills them.
In North America, in general, all trails, groomed or ungroomed, within the ski area boundary are controlled for avalanches and are considered safe to ski. In Europe, groomed trails are called pistes. If a person leaves a groomed trail or piste, they are entering an uncontrolled environment, off-piste, which may or may not have had avalanche work completed. In Europe, ski areas do not take responsibility for ensuring that the off-piste areas within the ski area boundary are safe to ski (BRASS Foundation).
Snow avalanches happen when a combination of factors come together to cause the bond within the snowpack or between the snowpack or between the snowpack and the ground to weaken to the point that the snowpack can no longer hold itself together (Parks Canada Avalanche Information).
These factors include:
The amount of snow accumulated on a slope
The steepness of the slope
Changes to the snowpack caused by wind, sun, temperature and precipitation.
The BRASS Foundation in the United States operates with a "Know Before You Go" approach. Education and abiding by the following five steps will help to prepare skiers for travel in the backcountry or European ski areas. For more information visit the "Know Before You Go" non-profit organization website.
1. GET THE GEAR
Backcountry or off-piste skiers should never leave home without the proper gear. Although the most important piece of gear you'll take into an off-piste environment is your brain, it's important that anyone choosing to travel in avalanche terrain understands the risks involved (Parks Canada).
Always carry a transceiver, probe, and shovel in the backcountry to help you find a buried partner and be found.
Always carry your gear on your body with your transceiver turned on.
Consider riding with an inflatable pack to increase your chances of staying on top of an avalanche.
Practice with your gear regularly. Seconds count and your gear only works when you can use it confidently and efficiently in bad conditions.
Carry the gear and supplies you need to survive an injury or a long evacuation in winter conditions.
Be able to communicate with your partners and rescuers.
Remember that your gear helps you have a safer and more fun day - it does not guarantee your safety.
2. GET THE TRAINING
Anyone skier thinking about travelling in avalanche terrain should first take a basic avalanche awareness and safety course taught by a certified Avalanche Skills Training course instructor.
Following a curriculum designed by Avalanche Canada, through both classroom and outdoor field sessions AST Level 1 and Level 2 courses provide instruction on how to:
Identify terrain - how terrain choices and changing weather can impact your safety
Understand the conditions and factors that cause avalanches
Plan and carry out a backcountry or off-piste trip with a group safely
Understand and use Public Avalanche Forecasts and the Avalanche Terrain Exposure Scale
Carry out a companion rescue
Use appropriate travel techniques when travelling in avalanche terrain and how your actions can impact the safety of the other groups.
Learn how to provide first aid to an injured member of your party by keeping your skills current.
Continue to learn about avalanche safety and best practices by studying accident reports and taking refresher classes.
To find a course locally in Canada visit Avalanche Canada
3. GET THE FORECAST
Public avalanche forecasts are provided so that skiers planning trips into avalanche terrain for one or more days will use that information to help them make the most appropriate destination and terrain decisions. Skiers must be aware that while the forecasts strive for accuracy, backcountry and off-piste conditions change regularly and can never be predicted with absolute certainty (Parks Canada Avalanche Information).
Information to Gather Before You Go:
Note the avalanche problems you expect to find and understand how different problems require different tactics.
Be aware of any mitigation work planned for where you intend to ski.
Conditions can change quickly and some riding areas are not covered by up-to-date forecasts - be prepared to assess conditions yourself.
Do the research - be prepared with maps, understanding of the terrain, and reports from others.
Create a skiing plan before you head out.
Set objectives and restrictions based on forecast conditions and group desires and capability.
Make sure everyone understands the plan and agrees with it and let someone know where you plan to go and when you plan to return. Check in with them upon your return to let them know you have safely returned.
4. GET THE PICTURE
Be aware of hazardous or changing conditions
Recent avalanche activity
Changing wind, snowfall, and temperature
Cracking or collapsing snow
Recent wind deposited snow
Does what you see on the ground match the forecast?
Conditions can change quickly and forecasts are not guarantees - re-assess as you go
Use test slopes
Low consequence
Representative aspect and elevation
Interactions with other groups - be aware of
Groups above you
Groups below you
Roads & buildings below you
Mitigation work nearby
Never intentionally trigger an avalanche unless you are sure the area below is clear
Is anyone outside of their comfort zone?
Is the group discussing options and concerns?
Identify safer and more hazardous terrain and minimize your exposure
5. GET OUT OF HARMS WAY
Only one person on a suspect slope at a time
Don't help a buddy find a lost ski or get unstuck in hazardous terrain
Cross or ski suspect slopes one at a time
Don't stop in an area exposed to avalanche hazard
Watch each other, eat lunch, and regroup out of the way of a potential avalanche
Stay in contact with one another
Don't enter a closed area or any place undergoing mitigation work
Know what terrain traps are and avoid them
---
FOR MORE INFORMATION ON AVALANCHE TRAINING AND AWARENESS VISIT:
Avalanche Canada: https://www.avalanche.ca/training
Parks Canada Public Avalanche Information: https://avalanche.pc.gc.ca
Avalanche Report - International Avalanche Information & Education: https://avalanche.report/education?lang=en
BRASS Foundation: https://brassfoundation.org/
Know Before You Go: https://kbyg.org/#home
Tree Well Snow Safety
Tree wells are an often unknown threat that can be encountered within the ski area boundary when skiing in deep powder on an ungroomed run. In simple terms, a tree well is a hole or void in the deep snow, which is clearly marked by a tree. You can easily identify and avoid these areas.
A tree well is a void or depression that forms around the base of a tree can and contain a mix of low hanging branches, loose snow and air. Evergreen trees in particular (fir, hemlock, etc) can have large, deep tree wells that form when low hanging branches block snow from filling in and consolidating around the base of the tree. These voids can be hidden from view by the tree's low hanging branches.
Here are four considerations from the CWSAA Blog post on January 19, 2019:
Assume all trees have tree wells under them, even ones which look small.
Always ski with a buddy when in trees and stay within voice and visual contact. 90% of people involved in tree well/SIS hazard research experiments could NOT rescue themselves.
Attach a whistle to your jacket zipper as it could be useful in getting attention if needed.
If you are a skier, consider skiing tree runs without using your pole straps, so that your hands not restricted by your poles if you do find yourself in a tree well.
Prior to skiing in deep snow, it's best to review the full Canada West Ski Areas Association Blog reviewing tree well safety from January 16, 2019: https://cwsaa.org/2019/01/16/tree-well-safety-education/.
For more information in regards to tree wells, as well as tree well safety and accident prevention around tree wells, visit the Deep Snow Safety website.
THERE IS NO EASY WAY TO IDENTIFY IF A PARTICULAR TREE HAS A DANGEROUS TREE WELL BY SIGHT THEREFORE, TREAT ALL TREE WELLS AS DANGEROUS.
---